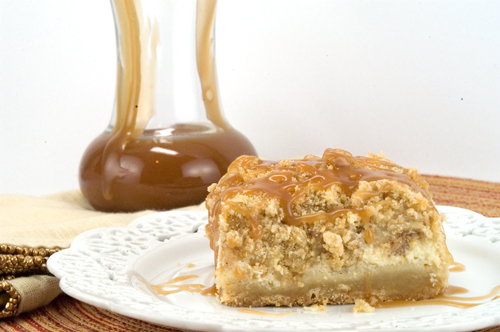 Fall's a pretty popular time for tailgating, and you can't tailgate without a really delicious dessert. I don't know about you, but when I think of a dessert that you can hold in your hand, I always think of brownies. These bars are a great, and super delicious alternative to brownies, trust me..! There's even a home made caramel sauce drizzled over the top! These  completely capture the essence of Fall, can be made ahead, and are easy to transport. Trust me, you'll want to transport these where ever you go!
This is the perfect recipe to christen my new Cuisinart Food Processor. This processor is a powerhouse, and will be great for many recipes for a long time to come. It features three different sized bowls, two chopping blades, a dough blade, a slicing disc and a shredding disc. The best part of it is, it was on sale, I had another savings coupon, and together with some gift cards I had for Macy's, I only paid $40.00 for it! I knew I was saving those gift cards for something great!
I found this great recipe from Nicole at one of my favorite blogs, The Galley Gourmet. Check her blog out, there are some great recipes there!
And now, for that luscious caramel sauce…..!  Click here for the recipe!
I'd like to wish Dale Jr (my favorite) a huge "GET WELL" this week. He's out for two races due to a concussion from crashes in two races. He did the right thing by following doctor's orders. I know that was pretty disappointing at this stage of the game, but it is what it is. You don't want to mess around with a head injury. Rest and we'll see you back on the track real soon!
5th Race: Charlotte Motor Speedway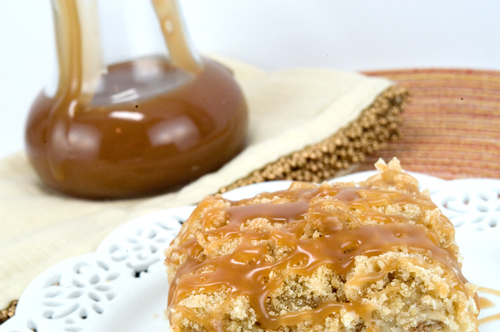 Print
Caramel Apple Cheesecake Bars
---
Author:

Prep Time:

30 mins

Cook Time:

50 mins

Total Time:

1 hour 20 minutes

Yield:

16

1

x
Description
These creamy, apple bars are super easy and delicious.
---
For the Bars:

2 cups

unbleached all-purpose flour

1/2 cup

firmly packed light brown sugar

1/4 teaspoon

kosher salt

1 cup

(8-ounces) unsalted butter, cut into small pieces and softened

2

(8-ounce) packages cream cheese, softened

1/2 cup

granulated sugar plus 2 Tablespoons, divided

2

extra large eggs

1 teaspoon

vanilla extract

3

large Granny Smith apples, peeled, cored, and cut into a 1/4-inch dice

1/2 teaspoon

ground cinnamon

1 teaspoon

freshly squeezed lemon juice
For the Streusel:

1 cup

firmly packed light brown sugar

1 cup

unbleached all-purpose flour

1/2 cup

quick cooking oats

1/2 cup

(4-ounces) unsalted butter, softened

1/4 teaspoon

kosher salt

1/2 cup

home made caramel sauce
---
Instructions
Preheat the oven to 350° F. Line a 9-x13-x2-inch baking pan with heavy duty aluminum foil; set aside.
Make the Streusel:
In a medium bowl, combine brown sugar, flour, oats, salt and butter with a fork until all of the butter is incorporated; set aside.
Make the crust:
In the bowl of a food processor combine the flour, brown sugar, and salt. Add the butter and pulse until small crumbs form. Press the mixture evenly into the prepared pan. Bake for 15 minutes or until lightly browned.
Meanwhile, to make the filling, wipe out the bowl of the food processor. Add the cream cheese, 1/2 cup of the sugar, eggs, and vanilla; process until smooth; set aside.
For the apple mixture, in a medium bowl, stir together the apples, cinnamon, 2 Tablespoons sugar, and lemon juice; set aside.
While the crust is still warm, evenly spoon the cream cheese mixture on top. Evenly spoon the apple mixture on top of the cream cheese. Squeeze a handful of the streusel topping in your hand, then break into small clumps and sprinkle evenly over the apples. Continue with remaining streusel. Bake for 30-35 minutes or until the filling is set. Cool completely on a wire rack. Refrigerate for several hours or preferably overnight until firm.
When ready to serve, remove the the cheesecake from the pan using the aluminum foil. Carefully peel the aluminum foil from the sides of the cheesecake. Cut into 24 squares and drizzle with the caramel sauce.
Notes
Prep time does not include the couple hour to overnight set time in the refrigerator.

Winner of Race 5 of the Chase, Clint Bowyer!