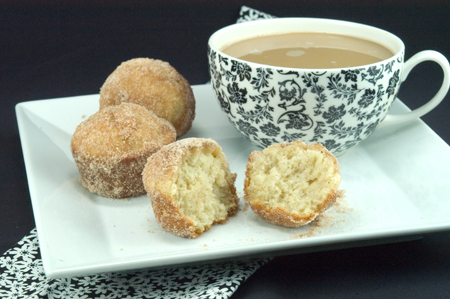 Who knew something this good could be sooooo easy to make??? Well this recipe is both of them! Mix by hand, and so good! This recipe came on a Gold Medal" flour package way back in the 60's, and is still delicious today. This recipe is literally a "Gold" standard. These adorable little muffins literally melt in your mouth. The only thing I would change from the original recipe is to try with unsalted butter for the cinnamon/sugar/butter topping. When using salted butter, I found that the first bite was a little salty.
These muffins are the perfect start to any morning, especially this Memorial Day weekend! Enjoy!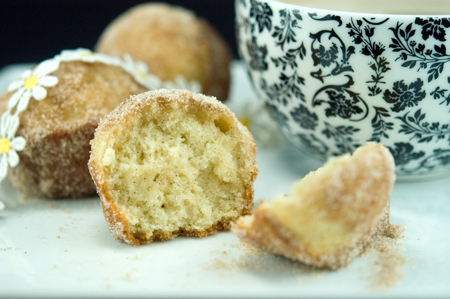 Author:
These tasty muffins literally melt in your mouth, and are the easiest thing to make!
Ingredients
1/2 c. unsalted butter
1/2 c. granulated sugar
1 egg
1-1/2 c. all-purpose flour
1-1/2 tsp. baking powder
1/2 tsp. salt
1/2 tsp. ground nutmeg
1/4 tsp. ground cinnamon
1/2 c. milk
Topping:
1/2 c. unsalted butter
1/2 c. sugar
1 tsp. ground cinnamon
Instructions
Heat oven to 350 degrees F. Grease 12 medium muffin cups.
In a separate bowl, mix together the flour, baking powder, salt, nutmeg and cinnamon.
In a large bowl, mix softened butter, 1/2 cup sugar and the egg thoroughly. Stir in the flour mixture alternately with milk. Divide batter evenly among muffin cups.
Bake 20 to 25 minutes or until golden brown.
For topping, mix 1/2 cup sugar and 1 teaspoon cinnamon in a bowl comfortable enough to roll muffins in. Melt unsalted butter in another bowl comfortable enough to roll muffins in. Roll hot muffins immediately in melted butter, then in sugar-cinnamon mixture. Serve hot.
Notes
Make sure you have someone else around you when eating these! You could literally eat all of them if not monitored!!!
I used Vietnamese Cinnamon from King Arthur Flour, but any ground cinnamon can be used.

These French Breakfast Puffs were featured in the Foodbuzz Top 9!