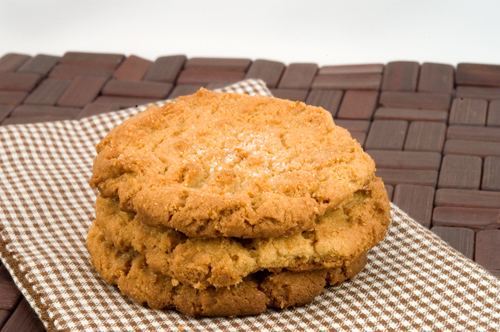 These cookies came from the high school I attended. We used to get them periodically for lunch. They are perfectly crunchy on the outside edges and chewy on the inside. Just the way a peanut butter cookie should be!
I wonder if they still serve these at school?…although I don't think they'd be on Jamie Oliver's Food Revolution list! But they sure were good!
Author:
This is the perfect peanut better cookie. Crunchy on the outside edges and chewy on the inside.
Ingredients
3/4 c. shortening
1 c. peanut butter
1 c. brown sugar
1 c. white sugar
2 eggs
1 tsp soda
1/2 tsp baking powder
2 c. flour
1/4 tsp salt
2 tsp vanilla
Instructions
Preheat oven to 350 degrees F.
Mix soda, baking powder, flour and salt in a bowl and set aside.
With an electric mixer, mix shortening, peanut butter, brown sugar and white sugar until blended well. Add eggs.
Gradually add dry ingredients and mix well. Add vanilla.
Drop by tablespoonfuls or small to medium ice cream scoop on to cookie sheet (preferably lined with a Silpat). Bake 12 to 15 minutes at 350 degrees F. Yields approx 36 cookies using medium ice cream scoop.
Notes
Make sure they are baked for the full 15 minutes. May need 17 minutes in some ovens.