Ever feel like having a chocolate chip cookie, but don't feel like making cookies? I have it all the time. Then I found these Chocolate Chip Crumb Cakes.
I used to buy a frozen version in the grocery store years ago, but they stopped making them.
I saw this great recipe from Anitalianinmykitchen, and decided I would try them out. I bought a new square muffing pan, so thought these would be the perfect cakes to try the pan out with.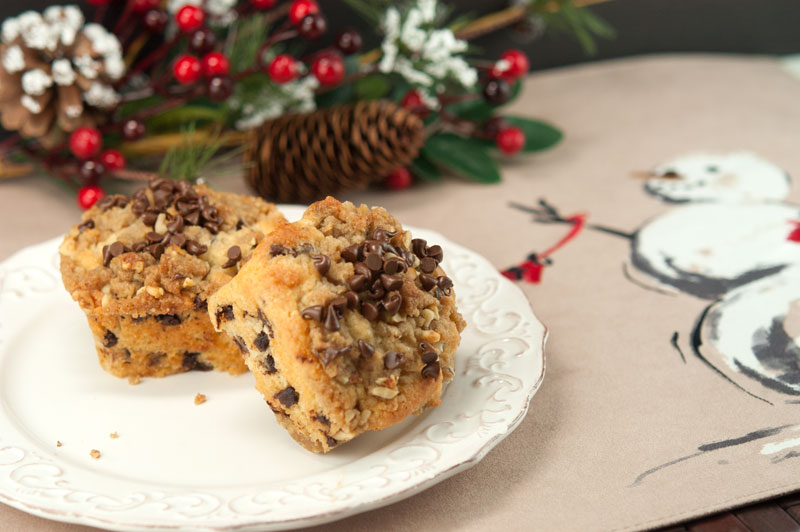 Am I glad I did. These have the perfect texture, and crumbs on top. I changed the recipe a hint by using all semi sweet mini chips instead of white and chocolate chips, and added some chopped walnuts to the crumb topping.
Once they were done, I knew I was in for a treat…the smell was just like chocolate chip cookies baking.
These are the perfect mini cakes to bring to any event.
Ingredients
CAKE BATTER:
1-1/4 cups flour
1/4 cup cake flour
1/2 cup butter
3/4 teaspoon baking powder
1/4 teaspoon baking soda
3/4 cup sugar
1 egg
1 teaspoon vanilla
1/2 cup + 1 tablespoon greek yogurt (I used 0% fat)
2/3 cup mini semisweet chocolate chips
CRUMB TOPPING:
1/2 cup flour
1/2 cup brown sugar
1/2 cup chopped walnuts
1/2 cup butter
EXTRA TOPPING:
1/2 cup mini semisweet chocolate chips
Instructions
1
Pre-heat oven to 375°. Lightly grease and flour a 9x4" loaf pan, or 12 round or square muffin cups.
3
In a medium bowl mix together flour, sugar and nuts, add butter and mix until it becomes coarse crumbs. Set aside.
5
In a medium bowl whisk together flours, baking powder and baking soda.
6
In a small bowl toss together chocolate chips and 1 tablespoon of whisked flour mixture. Set aside.
7
In a medium bowl cream butter till creamy about 3 minutes, add sugar and beat well, add egg and beat for 30 seconds then beat in vanilla.
8
Add the flour and Greek yogurt alternatively, starting and ending with flour to the creamed mixture (3x flour and 2x yogurt). Scrape down the sides of the bowl after each addition.
9
Stir in the chocolate chips.
10
Spoon the batter into the prepared loaf pan (or muffin pan), smooth the top. Sprinkle crumb topping evenly on top of the cake(s).
11
Bake the loaf size pan for 50-60 minutes or until tooth pick comes out clean. Bake the cupcake sized pans about 25 minutes or until toothpick comes out clean.
12
Remove from oven and immediately sprinkle with 1/2 cup unsweetened chocolate chips. Let cool completely before serving. Enjoy!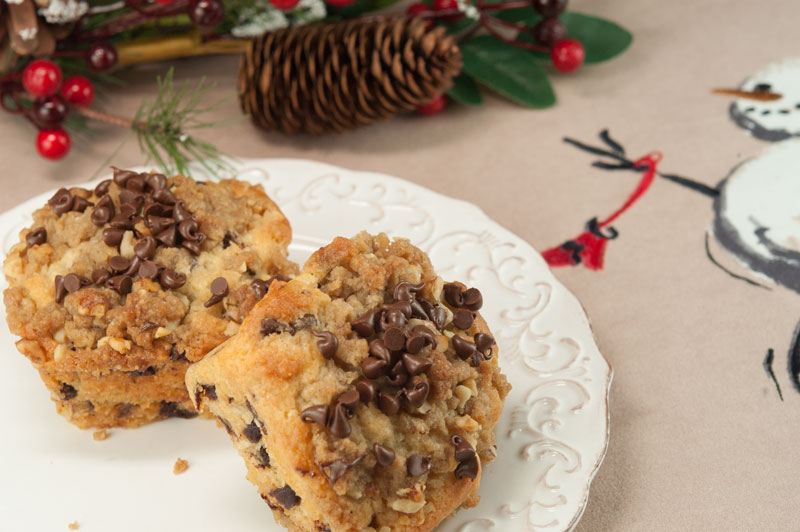 Print