I've just come back from our family's "girls only" annual trip to Freeport, Maine! Tired…very tired. But we had fun. And it's always great to look forward to. My Mom, aunts, cousins and daughter all get together and do shopping at the outlets, go on sleigh rides, did I mention shopping?, and most importantly…EAT!
This year, one of the girls wanted to go to Cabela's Sporting Goods store in Portland, so off we went. Now I bet you think this post is going to be about hunting and fishing…wrong! Although those taxidermied animals in the center of the store were phenomenal, the candied nuts they were roasting when entering the store, really caught my eye… and my senses. I know what you're thinking, there she goes thinking of her stomach…but it was late in the day, and we had only had a late breakfast, so I was getting hungry!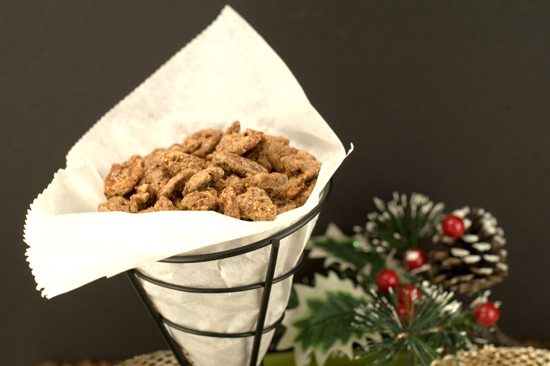 Now, I'm trying very hard not to eat carbs, and excessive sugar, but fair warning…..don't take one bite of these nuts unless you want to eat more! They were that delicious, and addicting! These would be PERFECT for giveaway's at holiday time! These would also be good to make and give with that bottle of booze for holiday Yankee swaps!
The minute I got home, I decided that would be one of my holiday posts. Although, these are not just for the holidays. You can take these along on hikes, hunting and fishing. Not only that, but they are perfect for your next party any time of year!
Although we bought pecans, almonds, and cashews, the pecans were my favorite. The cinnamon sugar mixture gets in all the nooks and crannies, and is extra delicious. These nuts are so addicting, you will never forget eating them.
Print
Candied Cinnamon Sugar Pecans
---
1

–

1/4

cup granulated sugar

2

–

1/2

teaspoons ground cinnamon

1 teaspoon

salt

2

egg whites

2 tablespoons

water

1/2 teaspoon

vanilla extract

1

pound pecan halves
---
Instructions
Preheat oven to 250 degrees F. Line a large rimmed baking sheet with non-stick foil or parchment paper; set aside.
In a large zip-top bag, combine the sugar, cinnamon and salt; set aside.
In a very large bowl, whisk together the egg whites, water and vanilla extract.
Add the pecans to the bowl and stir them into the egg white mixture with a rubber spatula, making sure they are all moistened.
Using a slotted spoon, remove the pecans from the egg white mixture and drop them into the bag with the cinnamon-sugar mixture. Once all of the pecans are added, seal the bag, and shake it to coat all of the pecans.
Using a clean slotted spoon, remove the pecans from the bag and place onto the prepared baking sheet in a single layer.
Bake for 1 hour, stirring them every 15 minutes.
Remove from the oven and cool to room temperature.
The pecans can be stored in an airtight container at room temperature for up to 2 weeks.

Recipe adapted from Brown Eyed Baker