What can I say…Cotton is a great place to meet friends and relatives, have some fantastic Martini's, and a great opportunity to enjoy some great food by Chef/Owner/Author Jeffrey Paige. Jeffrey is passionate about using local foods and working with local people who are passionate about their products. Before Cotton, Jeffrey was Executive Chef at Canterbury Shaker Village, one of two remaining active Shaker communities left in the world at the time. I had the pleasure to eat at the Shaker Village years ago when Jeffrey was there, and remember vividly what I had…a Chicken Stew over a super light, tender biscuit. Doesn't sound like anything much in Culinary circles, but I have to say that was damn near the "best thing I ever ate"! I still remember it to this day. Ever since eating there, and finding out who the chef was, I remember the name Jeffrey Paige.
He brings the same perfection to Cotton. Simple, comfort food in a cozy, upscale, atmosphere, all made with the freshest, local ingredients. A true American Bistro. Everyone knows the quality of the end result, relies entirely on the quality of the ingredients.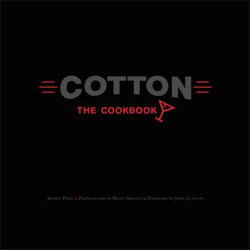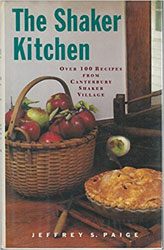 He has also written cookbooks on Canterbury Village and Cotton.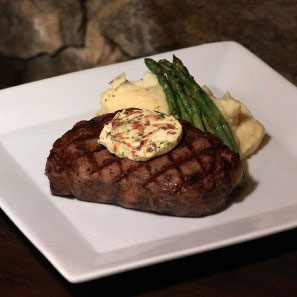 On our most recent visit, I started with a Cosmopolitan which was delicious. We shared a Farmhouse Salad, and ask for Buttermilk dressing and Balsamic dressing. Both dressings were delicious, and both were home made. The salad was also delicious and included sliced egg,  Maplewood bacon and huge chunks of Pineland Farms Cheddar cheese. Plenty for two it was the perfect starter. For dinner we both ordered the Brandt Flat Iron steak, which came with mashed potatoes and a choice of demi glace or flavored butters. Veggie of the day was also included. The steak was very flavorful and tender. All meals come with Sourdough bread and butter.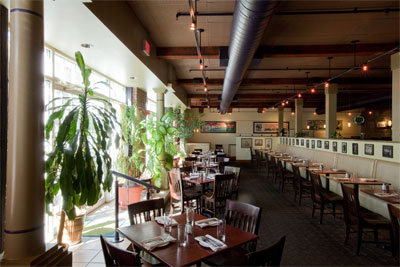 It was a great evening, as has been every visit we have made to Cotton. We are definitely going to have to make it there in the Summer so we can sit outside.
As for me, I have to get busy locating one of those Shaker Kitchen cookbooks….I'm still thinking about the wonderful lunch I had years ago!