This evening I realized I had nothing in the refrigerator to make for dinner. I always have some Bell and Evans boneless chicken breast in the freezer, so took some of that out to defrost. I usually grill some on my stove top grille. But it's getting boring. Little did I know I would find this great recipe "Chicken, Broccoli and Cherry Tomato Pasta"! I started thinking what could I make with it. I decided I would cook the breasts in some chicken broth, and probably keep it simple, and make a chicken salad sandwich. So I put the chicken pieces in a sauce pot with some chicken broth and put on the stove. Then I noticed I had a half a container of cherry tomatoes sitting on the counter, and thought, this would be great with some pasta, olive oil and garlic. And ya, I could put some of the chicken in to it as well!
So, I went to the computer and Googled, "pasta with chicken cherry tomatoes broccoli garlic and oil". This great recipe came up from Food Network, "Chicken, Broccoli, and Cherry Tomato Fusilli". The picture on their site was a little messed up, but it sounded just like what I was in the mood for. A coincidentally, the chicken for the dish was cooked in chicken broth on the stove! Wow, nothing could have been more perfect!
I ran to the fridge just to make sure I had broccoli, and yes, there it was!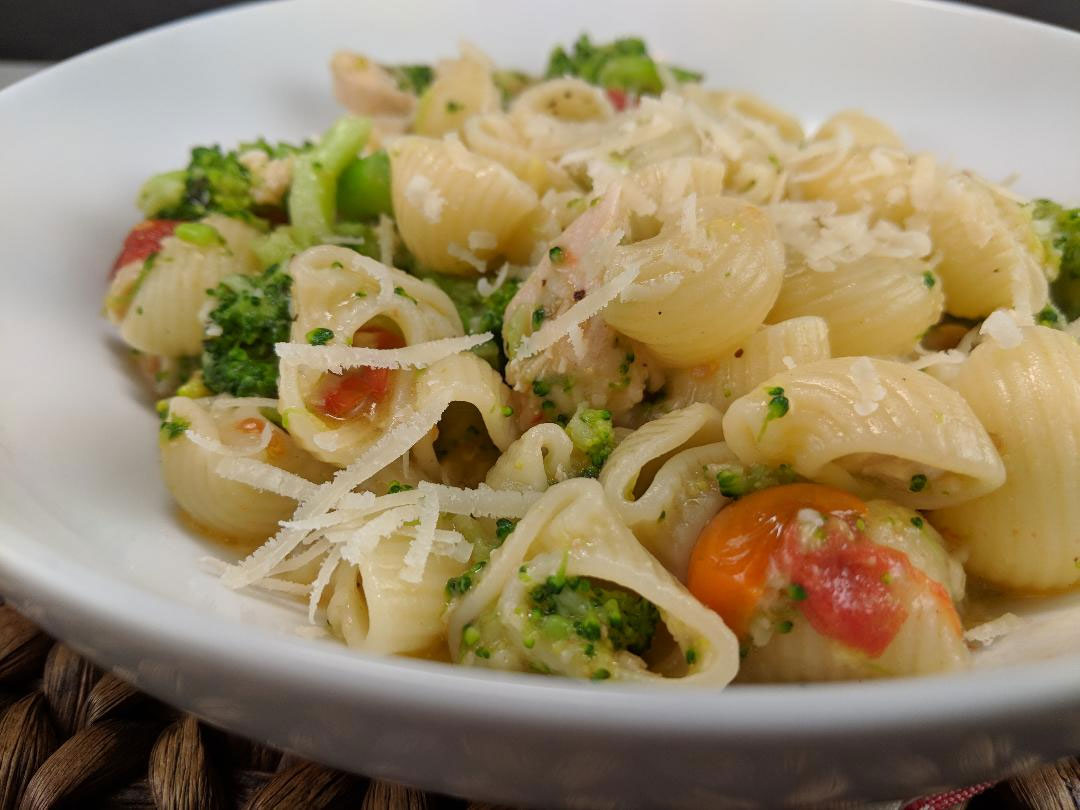 Disclaimer….I did mess up making this recipe, the recipe called for garlic for 2 different steps, and unless you are careful reading you can put it all in. Which I did. So the dish was a little (OK, a lot) more garlicky than it should be, but even with that screw up, it was FANTASTIC. I love pasta recipes that don't have that heavy cream sauce. Yes, they taste delicious. But, you feel terrible after. This has chicken broth, 2 Tbsp butter, and Parmesan or Romano cheese. That's it! Super, super, tasty!
I can't tell you what it tastes like when you use the correct amount of garlic until the net time I make it. But, I will say, if you're leery of garlic, use less. Garlic is a funny thing. Some people like loads of it, some people not so much, and some not at all.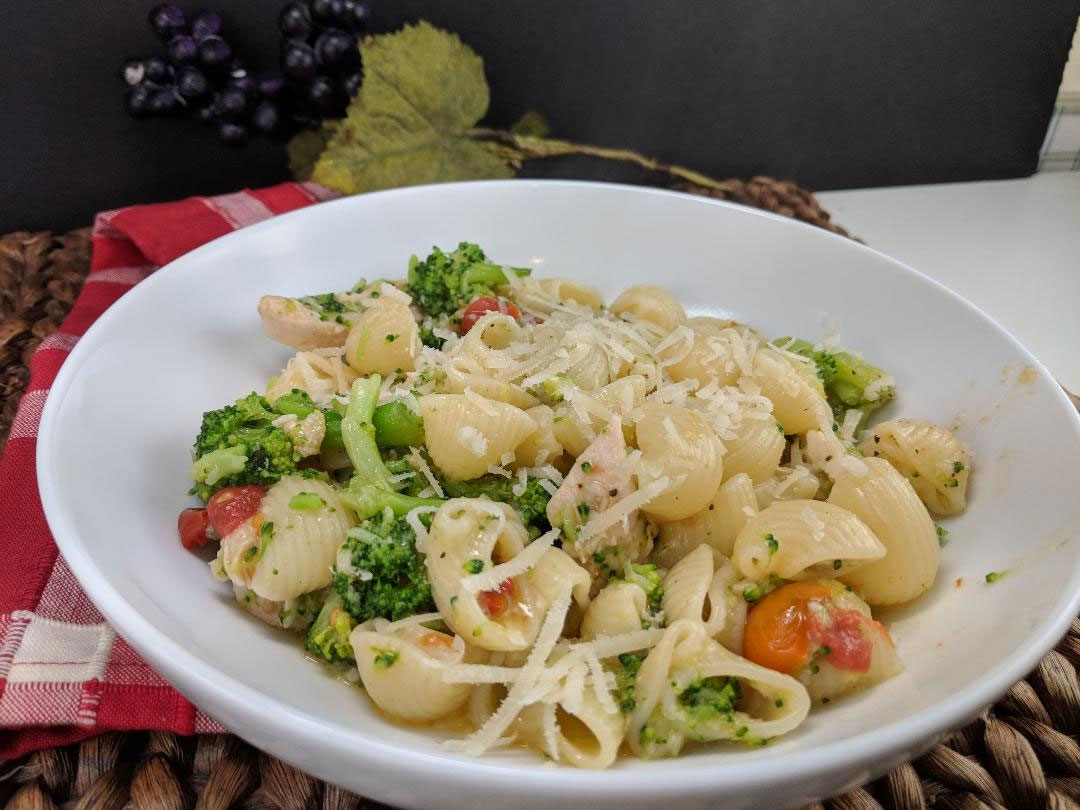 No matter what… try this recipe! It tastes like something you would get at your favorite Italian Ristorante, and you won't believe you made it yourself!
Update: I made this recipe again tonight, because it frustrates me when I mess up a recipe. I used less garlic (2 cloves minced sauteed in oil instead of the initial recipes 4 cloves garlic). I also sauteed the cherry tomatoes whole instead of cut. This recipe came out super delicious! Plenty of garlic!
MAKE THIS RECIPE!
Ingredients
2 boneless, skinless chicken breast halves (each about 8 ounces)
3 cups chicken broth, homemade or low-sodium canned
1 tablespoon kosher salt
2 garlic cloves, smashed
2 sprigs flat-leaf parsley
3 slightly heaping cups small broccoli florets (about 7 ounces)
12 ounces spinach fusilli pasta (about 3/4 of a pound box) (or any other pasta)
2 garlic cloves, minced
3 tablespoons extra-virgin olive oil
1/4 teaspoon red pepper flakes
1 cup cherry or grape tomatoes, halved
2 tablespoons unsalted butter, diced
1/2 cup grated Pecorino Romano (or Parmesan), plus more to pass
Freshly ground black pepper
Instructions
1
In a small saucepan with a tight-fitting lid, combine the chicken, broth, 1 teaspoon of the salt, smashed garlic, and parsley. Bring just to a boil, remove from the heat, and set aside, covered, until just cooked through, about 15 minutes. Remove the chicken, strain the broth. Pull the chicken into strips and put in a bowl with about 1/4 cup of the broth. Reserve the rest of the chicken broth.
2
Bring a large pot of cold water to a boil over high heat, then salt it generously. Add the broccoli and cook until crisp-tender, about 2 minutes. Transfer broccoli with a slotted spoon to a bowl. Return the water to a boil, add the fusilli and cook, stirring occasionally until al dente to tender but not mushy, about 8 minutes.
3
While the pasta cooks, combine the minced garlic, oil, and red pepper flakes flakes in a large skillet. Cook over medium-high heat, stirring, until lightly browned and fragrant, about 2 minutes. Add the tomatoes and cook, stirring, until somewhat soft, about 1 minute. Add 1/2 cup of the broth, the remaining 2 teaspoons salt, and stir in the butter and 1/4 cup of the Pecorino until incorporated. Stir in the chicken and broccoli, bring to a simmer, and remove from the heat.
4
Drain the pasta in a colander in the sink. Transfer to a bowl and toss with the remaining 1/4 cup Pecorino. Pour the sauce over the pasta, season with pepper, and toss to combine. (If the sauce around the pasta seems "tight", add a little more broth, until it loosely naps the fusilli.) Serve in large bowls and pass additional cheese at the table, if desired.
Notes
Once you've poached the chicken in the broth it doubles in flavor. Freeze or refrigerate any leftovers for other recipes (like chicken salad the next day for lunch)!