Today, I decided to make scones and thought it would be nice to make them in a heart shape. Normally I pat the dough into a 8 or 9 inch circle and cut into wedges. This time i rolled to a 3/4 inch thick circle and cut heart shapes out. I put a dab of cherry preserves in the middle and drizzled with almond icing.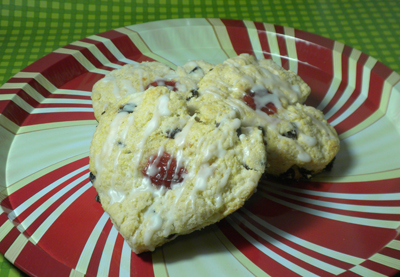 Valentine's Day Cherry Almond Scones
2 c. flour
1/2 c. plus 1 tsp. sugar
1 tsp baking powder
1/4 tsp baking soda
1/2 tsp salt
8 Tbsp (1 stick) unsalted butter, frozen
1 pkg (6 oz) or approx. 1 cup dried cherries
1/2 c. sour cream
1 large egg
1/2 tsp almond extract
cherry preserves
Icing:
1 c. confectioners sugar
1/4 tsp almond extract
water to consistency desired
Preheat oven to 400° F. In medium bowl, mix flour, 1/2 c. sugar, baking powder, baking soda & salt. Grate butter in to flour mixture on large holes of a box grater. Use your fingers to work in the butter, then stir in the dried fruit. In a small bowl, whisk sour cream, egg & extract together until smooth. Using fork, stir sour cream mixture in to flour mixture until large clumps form. Use your hands to press dough against bowl. Put into fridge for out 10 minutes to chill. Place on lightly floured surface & pat in to a 8″ circle, about 3/4″ thick. Use a heart shape cookie cutter and cut into heart shapes. Put a small dab of cherry preserves in the middle. Sprinkle with 1 tsp sugar.  Place on parchment lined cookie sheet & bake for 15-17 minutes. Cool 5 minutes & serve warm or room temperature. Drizzle with icing.