I'll admit it I was very skeptical of those Air Frying machines thinking they are just another gadget that I'll buy and never use. I have heard quite a few people bragging about them, but still thought…that will be just another thing I use once, and then put in storage. Then I read a review from my friends at Cooks Illustrated and I was convinced I must try one. I purchased the Philips Avance Collection Airfryer XL, which was  recommended in their testing of air fryers.
Before receiving, I Googled recipes for air fryers. I wanted to see how this appliance did with food items beyond chicken fingers and french fries. I found LOADS of recipes from bloggers, food magazines, test kitchens, etc… I have my work cut out for me.
Coconut shrimp, baked potatoes, brussels sprouts, pork tenderloin…the selections are endless.
I couldn't wait to open the box and try some fresh cut french fries. This is something I never make, as I don't want to deal with the oil spattering, disposal, etc. I had an electric deep fryer that I used a couple times. You still have to deal with what to do with the used oil, pain in the neck.
I dislike frozen french fries, they don't taste like they used to. So I am looking forward to seeing how the fresh cut fries hail in the air fryer.
FIRST TRY…
Fresh cut fries is the first thing I made in the air fryer. I soaked the french fries for 30 minutes as instructed. Dried and mixed with 2 Tbsp olive oil. Put in at 360 degrees and cooked for the recommended 30 minutes.
I mixed the fries half way through cooking and couldn't believe how crispy they a;ready were in 15 minutes!
After 30 minutes I took out of the fryer. They were cooked all the way through but seemed to be a little overdone for my liking on the outside. They were not greasy at all and really delicious even though I overcooked them.
I am definitely impressed with this air fryer on my first use. The moral of the story is to check on what you are cooking. Had I done that and taken them out a little earlier they would have been perfect!
I am going to try these again, and report on how they were with less cooking time.
They were very small potatoes and red potatoes. That may be why they came out overdone.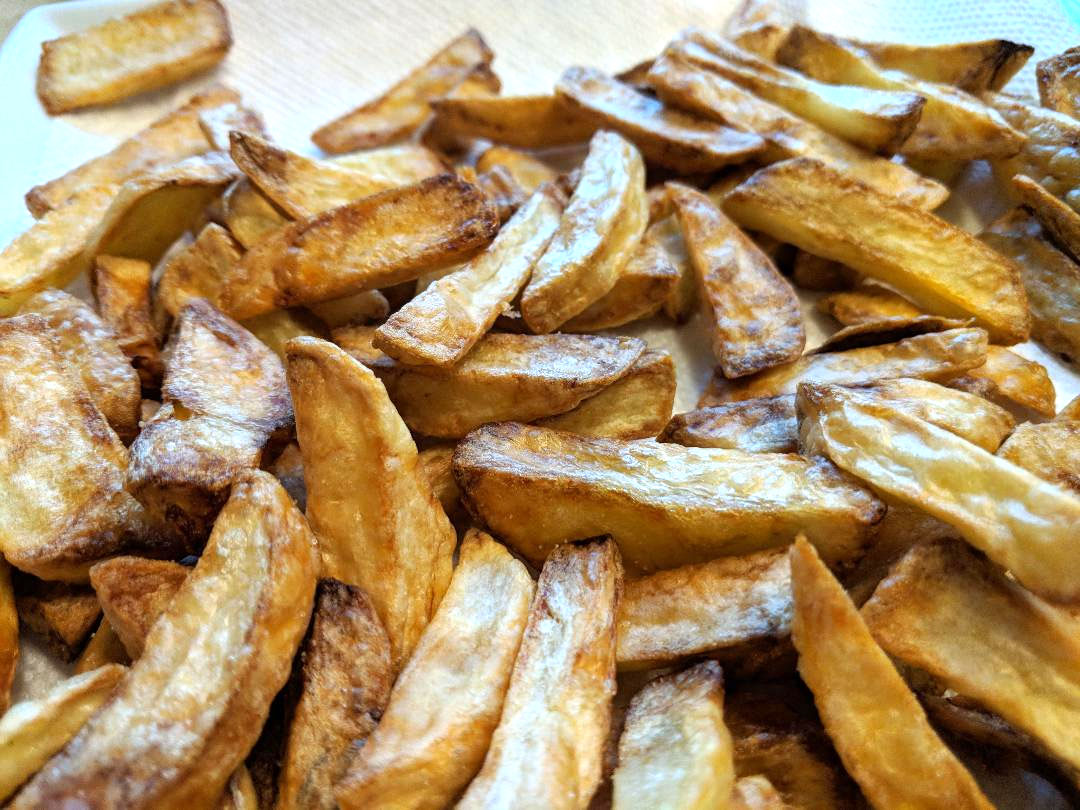 SECOND TRY:
I used Russet potatoes, and not the super huge ones, but definitely larger than the first red potatoes. Soaked as I did the first time, dried and coated with the oil. Cooked at the same temperature for about 25 minutes. Came our very good, and we ate them all, but think they could have used a little more oil. Another excuse to make more….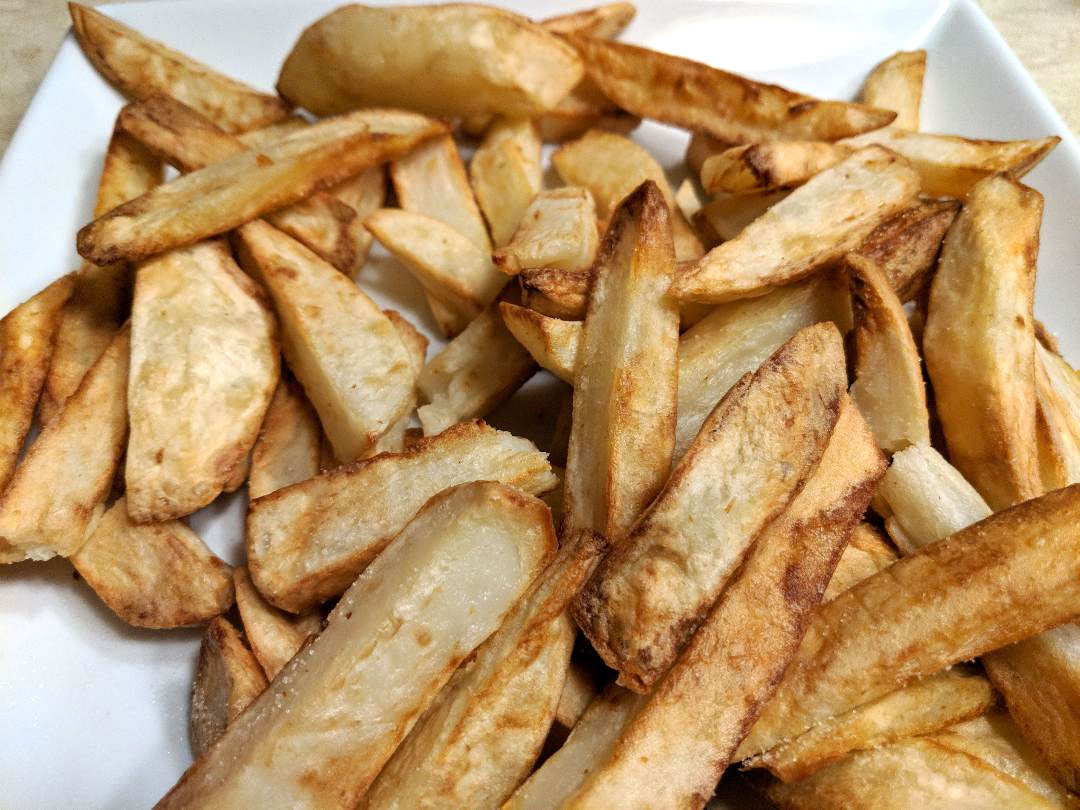 Definitely a great french fry. A little different appearance than the traditional deep fried french fry. But they are tender and delicious. Just don't have the grease that traditional fries have.
On to the next recipe with the Air Fryer!
Ingredients
6 medium Russet potatoes, peeled and cut into strips
2-3 Tbsp olive oil
Instructions
1
Peel the potatoes and cut them into 1/4 inch by 3 inch strips.
2
Soak the potatoes in water for at least 30 minutes. Drain thoroughly and pat dry with a paper towel.
3
Preheat the air fryer to 360 degrees F.
4
Place the potatoes in a large bowl and mix in oil, coating the potatoes lightly. Add the potatoes to the cooking basket and cook for 30 minutes or until golden brown and crisp. Shake 2-3 times during cooking.
Notes
Thicker potatoes will take longer to cook, while thinner cut potatoes will cook faster.