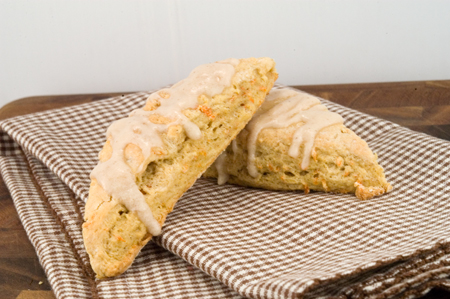 These scones are excellent for a breakfast or brunch any time of year. There also great for a snack, or with a cup of tea. Don't even think of eliminating the maple glaze…the maple flavor adds to the scone tremendously. I saw these great scones on Pinterest from Tutti Dolci, and am so glad I decided to make them. Pinterest is becoming my best friend. I've found so many ideas, recipes and jokes to name a few, I don't know what I did without it! It's really a great way of sharing your own recipes, and bookmarking other's for future use. Like today.
When mixing and forming the circle, the dough will be very sticky. I just kept adding flour until it was easy to handle.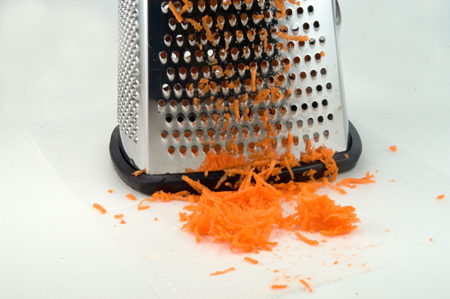 The added shredded carrots really add moisture to this delicious scone.

Carrot Spiced Scones with Maple Icing
Delicious scone with hints of cinnamon and nutmeg, together with a delicious maple glaze topping.
Ingredients
Maple-Glazed Carrot Spice Scones
2 cups self-rising flour*
⅓ cup brown sugar
½ tsp. baking soda
½ tsp. cinnamon
¼ tsp. nutmeg
¼ c.chilled unsalted butter
1 c.grated carrots
6 Tbsp low-fat buttermilk
1 large egg
½ tsp. vanilla extract
Instructions
Preheat oven to 400°F and line a baking sheet with a silicone mat or parchment paper.
Whisk together self-rising flour, sugar, baking soda, cinnamon, and nutmeg in a large bowl. Grated butter on large holed box grater, add to flour mixture and use a pastry cutter to cut in evenly until mixture resembles coarse meal.
Fold carrots into flour mixture.
Whisk together buttermilk, egg, and vanilla in a small bowl; add to flour mixture and fold in just until incorporated.
Take mixture and place on prepared pan. Pat into a round 10 to 12 inch circle. Score into 8 wedges.
Bake 12 to 14 minutes or until golden. Cool 2 minutes on baking sheet, then carefully transfer to wire rack to cool before slicing into wedges.Cut wedges in half if desired.
When completely cooled, drizzle with maple icing.
Notes
If you don't have self-rising flour, substitute 2 cups all-purpose flour plus 2 teaspoons baking soda and ¼ teaspoon salt (and still include the ½ teaspoon baking soda). Increase the buttermilk to ½ cup.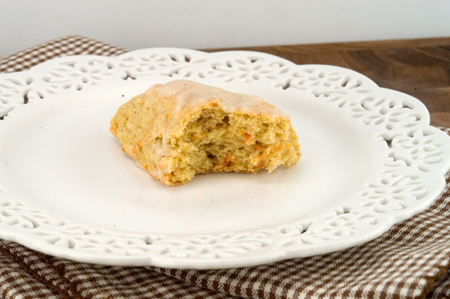 Maple Icing
Delicious maple drizzle for scones.
Recipe type:
Icing/Frosting
Ingredients
1 Tbsp unsalted butter
½ c. powdered sugar, sifted
1 Tbsp maple syrup
1-1/2 Tbsp low-fat milk
Instructions
To prepare glaze, place butter in a small saucepan over medium heat. Cook, stirring constantly, until it foams, turns clear, and then turns a deep brown, about 6 minutes. Cool slightly.
Sift powdered sugar into a small bowl; whisk in browned butter, maple syrup, and milk until smooth.
Set rack with scones over a piece of wax paper and drizzle with glaze; let set before serving.
Store leftovers in an airtight container at room temperature up to 2 days.