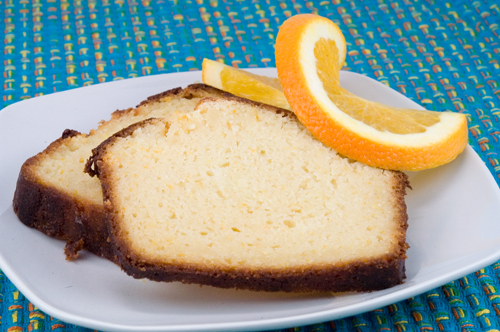 I noticed this pound cake on Pinterest from Sweet Peas Kitchen, and saved it in my "Want to Make" board. The concept of a not so sweet cake with a hint of orange zest in a very moist, buttery pound cake just appealed to me after the holidays that were filled with extra sweet desserts. After baking, you brush on a mixture of fresh orange juice and sugar (which can be adjusted according to taste) that has been cooked to reduce slightly.
It came out delicious. I will say though, the original recipe called for baking at 350 degrees F for 45 minutes. After the 45 minutes, the outside was very brown, but the inside was still jiggling slightly. So, I would probably recommend baking at 325 degrees F for a longer time, perhaps an hour or so. This way, the inside bakes without browning the outside too much. It still tasted very good, but I think it has a better appeal if it isn't so browned.
Try this. It's a great recipe for a breakfast, dessert or snack. And really not to overly sweet.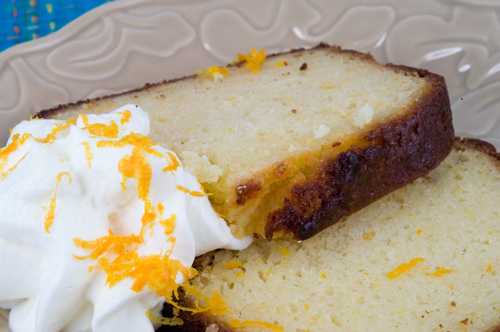 Ricotta Orange Pound Cake
A not too sweet pound cake bursting with orange flavor.
Ingredients
For the Cake:
1-1/2 c. cake flour
2-1/2 tsp. baking powder
1 tsp. kosher salt
¾ c. (1-1/2 sticks) unsalted butter, room temperature
1-1/2 c. whole milk ricotta cheese
1-1/2 c. sugar, plus 1 tablespoon, divided
3 large eggs
1 tsp. vanilla extract
1 orange, zested
2 Tbsp Amaretto (or ½ tsp. almond extract)
For the Orange Syrup:
⅓ c. freshly squeezed orange juice
⅓ c. sugar
Instructions
Preheat the oven to 325 degrees F. Grease bottom and sides of one 9 x 5-inch loaf pan; dust with flour, tapping out excess. Line the pan with a parchment paper sling for easy removal.
In a separate bowl, mix together cake flour, baking powder and salt. Set aside.
In the bowl of a stand mixer fitted with the paddle attachment, cream the butter, ricotta and 1-1/2 cups sugar until light and fluffy, about 3 minutes. With the mixer still running on low, beat in the eggs, one at a time. Add the vanilla, orange zest, and Amaretto or almond until combined.
Add the dry ingredients, a small amount at a time, until just incorporated.
Pour the batter into the prepared pan and bake until a cake tester or knife comes out clean, and the cake is beginning to pull away from the sides of the pan, about 60 minutes. Let cool in the pan for 10 minutes before removing loaf to a wire rack on top of a baking sheet.
While the loaf is cooling, make the orange syrup in a small saucepan over medium heat. Stir together the orange juice and sugar until the sugar is completely dissolved. Once dissolved, continue to cook for 3 more minutes. Remove from the heat; set aside.
Use a toothpick to poke holes in the tops and sides of the warm loaf. Brush the top and sides of the loaf with the orange syrup. Let the syrup soak into the cake and brush again. Let the cake cool completely.