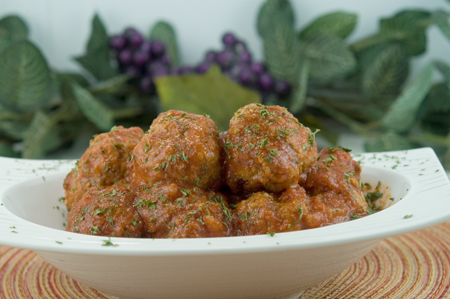 Everyone loves spaghetti & meatballs. It's the "go-to comfort food". And everyone makes them their own favorite way. Some people cook the spaghetti sauce a long time. I prefer my sauce light. If I'm making just a sauce alone, I only cook it 15-20 minutes. Some people cook their meatballs by either frying or baking before putting into the sauce. I don't like the hard crust on meatballs, or the taste they have after browning, so I throw them right into the hot sauce just like my husband's grandmother did. I would put the fennel seed in like she did too, except my husband doesn't like it. Meatballs are the kind of food that any way you make them, they sure do taste good!
If making sauce alone, cook sauce for 15-20 minutes tops, and it's the perfect Marinara!
I use a #40 spring loaded ice cream scoop which makes an approx. 2″ diameter meatball.
I also use mixed dried vegetables in my meatballs. They are essentially dried carrots, onion, tomato, spinach, celery and bell pepper. I think they add quite a bit of flavor. I also used in stews and meatloaf, among other things. They can be found in your supermarket under the McCormick brand, and I get them at one of my smaller markets in a 4 oz container for a mere $ 3.99. I find them invaluable and always have them on hand.
| | | |
| --- | --- | --- |
| Meatballs & Spaghetti Sauce | | |
Author:
Total time:
2 hours 20 mins
This very light and super flavorful sauce is perfect alone, or with these moist and flavorful meatballs.
Ingredients
Sauce:
4 Tbsp extra virgin olive oil
1 large onion, finely diced
3-4 cloves, minced
3 – 28 oz can ground peeled tomatoes (I use Pastene)
1/2 tsp dried oregano
1 tsp dried basil (1/4 c. fresh is even better if you have it, rough chop)
1 tsp dried parsley
1 tsp sugar
1/2 tsp kosher salt
1/2 tsp black pepper
1-2 Tbsp grated Parmesan cheese
handful of fresh basil, roughly chopped or torn
Meatballs:
2-1/2 lb meatloaf mix (beef, pork & veal) or (beef & pork)
1-1/4 c. Italian bread crumbs
3 eggs
Handful of fresh parsley, chopped
2 – garlic cloves, minced
2 Tbsp dried vegetables
1 tsp dried basil
1/2 tsp dried oregano
1/3 c. grated Parmesan cheese
1/2 tsp black pepper
1/2 tsp kosher salt
3 scallions, sliced (green parts only), optional
Instructions
Sauce:
Saute onion in oil until soft. Add garlic and saute 1 minute. Add canned crushed tomato. Add oregano, parsley, basil, sugar, salt & pepper. Cook on simmer for approx. 20 minutes. Add fresh basil.
Meatballs:
Mix all ingredients together. I form my meatballs using a #40, 1-3/4 inch spring loaded ice cream scoop. Then roll them into round balls and drop into hot tomato sauce. You should end up with a 2″ meatball. I cook them in a Nesco 6 qt. roaster on low, but you can also cook in a slow cooker, or on the stove. If cooking in a stockpot on the stove, be sure to use a flame tamer so as not to burn the meatballs. Try not to move around as they will mush easily. Cook on very low for approx 2 hours.
The Nesco 6 qt. Roaster I use for this recipe, and loads of others is something I use frequently. I do have an All Clad Slow Cooker, but seem to use this low cost roaster a whole lot more. Its not something I would put on and leave for the day though. The temperature for this roaster goes up to 400 degrees F, so this roaster is useful for all kinds of meals. I use it for chili, beef stew, soups, you name it. I like it because you can control the temperature a lot better with it.