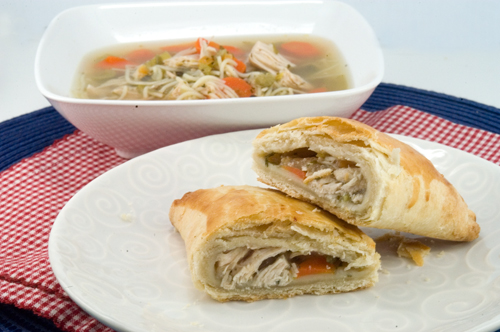 We are having a blizzard here this weekend, and I thought I would whip up a batch of chicken soup for the hubby who's out plowing snow. Then I remembered I wanted to make some Chicken Hand Pies, similar to ones I pinned on Pinterest recently. So I made some chicken soup minus the noodles and then once the mixture was cooked, I took some out to thicken for my Chicken Hand Pies. Then I proceeded to add the noodles to the soup.
Chicken Soup
Author:
Prep time:
Cook time:
Total time:
A chicken soup rich in chicken and vegetable flavor, perfect soup for your soul.
Ingredients
3 – 32 oz containers low sodium chicken broth
3-4 chicken breast halves, boneless and skinless
2 shallots, diced
3-4 celery stalks, diced (I use tender celery hearts)
4 huge carrots, cut in to very small pieces
1 Tbsp dried parsley
1 Tbsp dried celery flakes
1/2 tsp-1 tsp celery seed
1-2 Tbsp dried vegetables
salt & pepper
Instructions
In a large soup pot add low sodium chicken broth. Rinse the boneless, skinless chicken breasts, and throw them into the soup pot. Add sliced carrots, sliced celery, some chopped shallots, dried parsley, dried celery leaves, celery seed, dried vegetables, salt and pepper.
Let it cook on medium low for about an hour, or until chicken is cooked and vegetables are tender.
If making Chicken Hand Pies, reserve about a quarter for the chicken filling.
Add noodles to the rest for the soup. Cook soup til noodles are tender.

The soup turned out beautifully. Super tasty, and the chicken was ridiculously tender.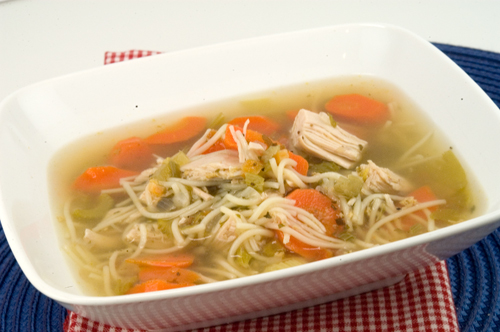 I started with Bell & Evans chicken. If at all possible, I don't use any other brand. It's more money, but well worth the extra cost. I hate rubbery, tough, tasteless chicken. And Bell and Evans is totally the opposite. This soup is easier than easy to make. I started with some low sodium chicken broth (I prefer Swanson, but any will do). I rinsed the boneless, skinless chicken breasts, and threw them in to the soup pot. Then I added sliced carrots, sliced celery, some chopped shallots, and dried parsley, dried celery leaves, celery seed, salt and pepper. Oh, and I added some of my favorite dried vegetables. I let it cook on medium low for about an hour, or until chicken is cooked and vegetables are tender.

The I took some chicken soup out and set aside for the Chicken Hand Pies, and added some very fine soup noodles to the soup, and cooked a little further til tender. Viola, soup done!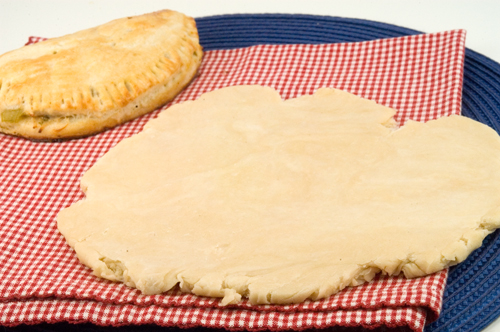 Fool Proof Pie Dough
Author:
Prep time:
Total time:
This pie dough is not only super easy, it is tasty and flaky. Perfect for turnovers, pies or squares.
Ingredients
2-1/2 c. unbleached all-purpose flour
1 tsp. salt
2 Tbsp sugar
12 Tbsp cold unsalted butter (1-1/2 sticks), cut into 1/4-inch slices
1/2 c. chilled solid vegetable shortening , cut into 2 pieces
1/4 c. vodka , cold
1/4 c. cold water
Instructions
Process 1-1/2 cups flour, salt, and sugar together in food processor until combined, about 2 one-second pulses. Add butter and shortening and process until homogeneous dough just starts to collect in uneven clumps, about 10 seconds (dough will resemble cottage cheese curds with some very small pieces of butter remaining, but there should be no un-coated flour). Scrape down sides and bottom of bowl with rubber spatula and redistribute dough evenly around processor blade. Add remaining 1 cup flour and pulse until mixture is evenly distributed around bowl and mass of dough has been broken up, 4 to 6 quick pulses. Empty mixture into medium bowl.
Sprinkle vodka and water over mixture. With rubber spatula, use folding motion to mix, pressing down on dough until dough is slightly tacky and sticks together. Flatten dough into 4-inch disk. Wrap in plastic wrap and refrigerate at least 45 minutes or up to 2 days.

Then I took the chicken mixture that I set aside, and thickened with a little cornstarch, and cooled and refrigerated. Then, I made my favorite pastry from Cooks Illustrated, and put in the refrigerator.
I rolled out the dough, and took a round 6-1/2″ bowl to use for the circles for the pies (you could make square, or any shape). I made four, but had some pastry left over so you can probably get 6 out of a double crust pastry recipe. In the center of the circle, I dripped about a tablespoon of thickened filling. I a little apprehensive about the thickness of the filling, so I added a sprinkle of quick cooking tapioca to thicken pies a little more, just in case. I took a little egg wash and went around the edge to be sealed, folded over and crimped with a fork. I pokes a couple holes in the tops and brushed with the egg wash. Place on a cookie sheet lines with a Silpat or parchment, and cooked at 425 degrees F for about 15-20 minutes, or until golden brown.
Even though you want to, let them cool to room temperature before cutting.
The recipe below may look a little daunting. It includes the recipes for the soup, the pie crust and assembly of the hand pies. It's really very easy to make the soup, the crust and assembly of the pies which can all be broken up into separate tasks.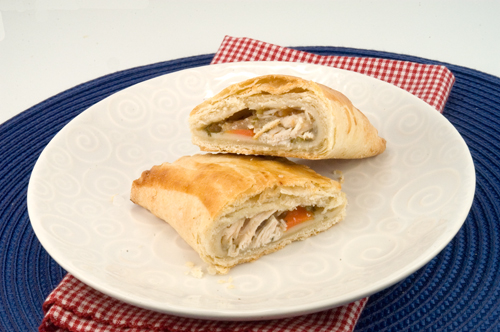 These little pies are extremely delicious. What a wonderful idea for a "take and go" recipe for today's busy families!


Chicken Hand Pies
Author:
Prep time:
Cook time:
Total time:
The little hand pies are an excellent way of getting a wholesome meal in to those "on the go" people in your family!
Ingredients
1/4 of chicken soup recipe above (you don't need very much for filling pies)
1-2 Tbsp cornstarch
4 Tbsp water
tapioca, quick cooking
1 egg
2 Tbsp water
Instructions
Add the cornstarch and water and blend together. Add to heated chicken soup and cook until thickened. Add more if needed to desired consistency.
Let cool and refrigerate until needed. It is much, much easier to use cooled filling when making the pies.
Whisk egg and water together for egg wash.
Remove dough from refrigerator and cut in half. Roll one half out between two sheets of parchment paper, with a little flour, to about a 8 to10 inch circle about 1/4 inch thick (don't make dough too thin as the pies will be too flimsy). Cut 6-1/2 inch circles (I used the top edge of a bowl) and place circles on a baking sheet lined with a Silpat or parchment paper.
Place a tablespoon of thickened & cooled chicken filling in to the center of each circle. Sprinkle with a little quick cooking tapioca, brush edges with a little egg wash, and fold over to form a half moon shape.
Crimp edges together with a fork, and poke a couple holes with fork in the tops.
Brush tops with egg wash.
Refrigerate until dough is firm, about 30 minutes.
Preheat oven to 425 degrees F.
Bake in preheated oven for about 15 to 20 minutes, or until golden brown.
Notes
If you are just making the hand pies and not the soup, make a much smaller batch of soup for the filling (maybe one half boneless chicken breast, a carrot or two, same for celery and one shallot; maybe 32 oz. or 48 oz. chicken broth). You really don't need very much for each pie.