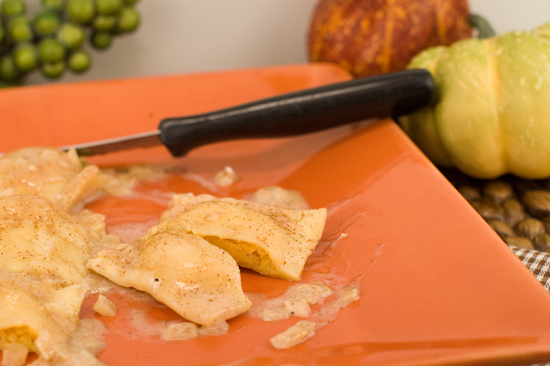 Not to be misleading, but the recipe is for the Maple Cream Sauce I created to go with the Butternut Squash I just purchased from one of my favorite markets, Russo's in Watertown, MA.
Russo's is a really neat market that has loads of produce, and an especially great amount of Asian produce, imported Cold Cuts (I can't even count the number of Prosciutto varieties they have), their own baked cold cuts (their Roast Beef is incredible), cheeses, home-made pasta, flowers, breads, meats, chicken and dairy, bakery, pies,plants and most importantly, the Vantia canned tomatoes I swear are the only ones I can use.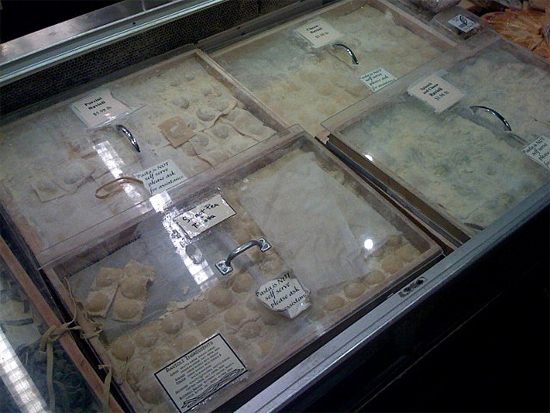 On todays trip, I purchased the Butternut Ravioli, some Bok Choy and fresh bean sprouts (hence the stir fry on this weeks menu), an Apple Crumb Pie, 2 lbs. of their own Roast Beef sliced super thin, some Plum Tomatoes and Imported Asiago cheese (for today's Tomato Soup), some Bell & Evans Chicken, Coconut Macaroons, and more cans of my favorite Vantia canned tomatoes (the real reason for the trip), to name a few.


I had posted this recipe quite some time ago, but never put a picture because I have trouble with white on white on white pictures (white ravioli, white sauce, white plate)! However, this sauce is so delicious, it deserves another try with the pictures. I don't think they're much better, but hopefully you get the idea. This sauce is so "Fall", it's not funny. The flavors of Maple and Cinnamon and a touch of Nutmeg scream Autumn, falling leaves and sweaters. I used my Alligator Dicer to finely dice the onions. This is one recipe you don't want big chunks of onions.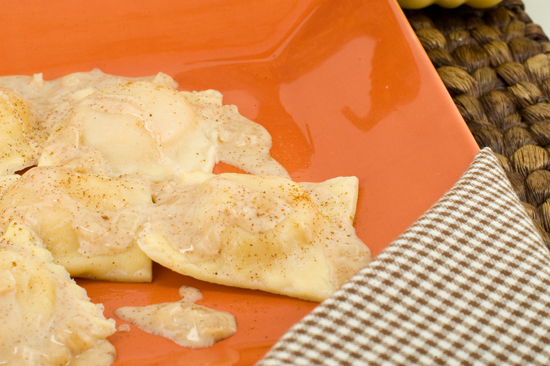 My cousin Denise makes this sauce and swears she licks the plate every time she makes this sauce! Its is delicious and EASY! I even dipped my grilled chicken in it, it's that good!

Butternut Squash Ravioli with Maple Cream Sauce
Ingredients
2 Tbsp. Butter
Half a small onion, very finely diced
1 c. Heavy Cream
1-2 Tbsp Real Maple Syrup
½ tsp Cinnamon
Pinch Nutmeg
Instructions
Melt butter in a 10" saute pan on medium heat.
Add onion and saute until soft.
Add cream, maple syrup, cinnamon & nutmeg and boil on medium high heat until reduced and thickened.